"I don't know what I'm doing, but look, I'm doing something!"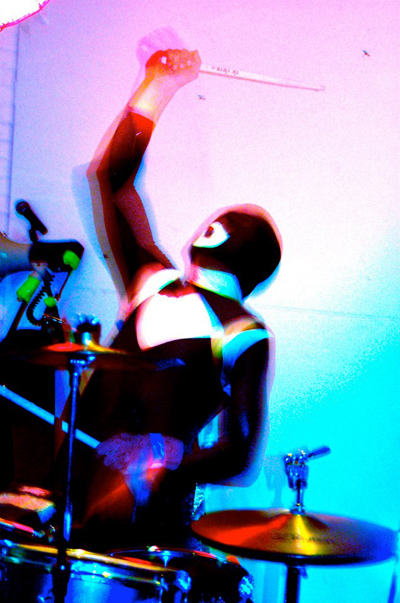 Uel Sveen plays Rock and Roll drums with Numbers
Although he only lived in Bozeman for nine months, Samuel Sveen made a unique impact on our small town art scene. It all began when Samuel, who was living in NYC at the time, followed up on a Craigslist job posting for an opening at Wild Joe*s Coffee Spot. After a lengthy phone conversation between Wild Joe*s owner Ron Gompers and Sam in which they discussed art and NYC, Ron offered Sam the job, provided he move to Bozeman. Ron did not expect the eccentric NYC artist to show, so he was quite surprised when Sam knocked on the door to his office, ready to make coffee. After a few days on the job, Sam noticed the empty space behind the coffee shop and inquired about it's use, Ron suggested that it become an art space, and so it was that the Bozeman Lamewavve space was born.
Over the course of the year, Sam hosted weekly events in the small garage style space.Lamewavve included local and touring music performances spanning genres including, Rock & Roll, Metal, Hardcore, Hip Hop, Electronic, Acoustic, Experimental and Noise. There were also various art shows, interactive events, poetry readings, stand-up and sketch comedy shows. Operating on a weekly basis, Uel Sveen had to get creative with his booking and party ideas. In addition to planning shows, Sam played Rock & Roll music with his good friend Dalton C. Brink in a band called Numbers. Dalton runs the Cottonwood Club and was the inspiration for the piece "Don't Suck."I visited Sam at his home studio in Bozeman earlier this year to talk to him about Lamewavve and his own art.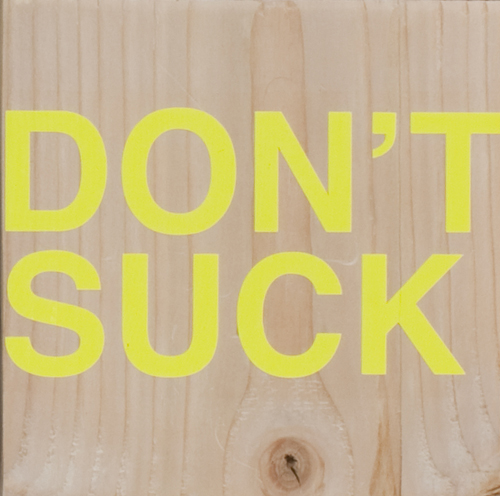 DON'T SUCK
What did you do after you graduated from Cornell University?
I made coffee at a fancy coffee shop in Ithica, NY. I did that for a year and was just hanging out and doing music stuff. I released a record on a local label, a vinyl record under the name Elsa and the Awesome Awesomes. After that I moved to New York City. I continued to do music stuff and was working at a coffee shop in addition to editing for a website called artobserved.com. It is a super contemporary blue chip fancy shmancy site. All we talked about was the most expensive artists. If we wanted to cover a show, the two questions were, what's their name? How much do they cost? Our readership was mostly really rich people. It led me towards a lot of weird stuff. It got me more into performance and conceptual art. I used to wear a lot of cut off jean shorts, and I kept all of the legs to make a piece called "I'd rather be pants." It was silly. There was a lot of corny conceptual stuff. I also got into the online stuff by making E-shirts as a way of involving people more. E-Shirts are an attempt to involve people more with my work. No matter what you are doing, whether you are putting out art or music, eventually people get numb to it. I was trying to get peoples attention and get them to like my page on Facebook. So what I did with the E-Shirts was stalked through my friends Facebook photos, which is what Facebook is for, stalking. Everybody jokes about it, but it is true. I went through and found peoples most embarrassing photo, photoshopped their shirt to be a solid field of yellow, put my logo on it then put the photo back up and tagged them in it.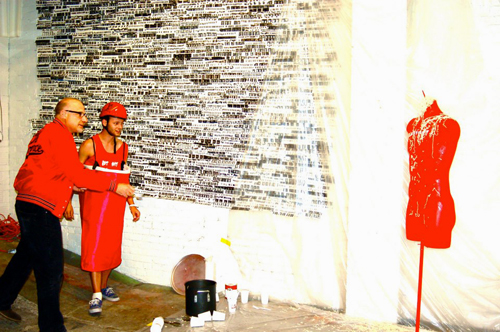 Ron Gompertz joins Uel in flinging Red Ramen at Red Romney at the Cheap RRR Party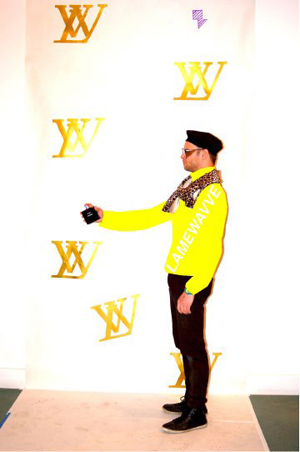 Uel Sveen wears a Lamewavve E-Shirt on the white carpet
Lamewavve was a movement before you got to Bozeman, How did it start?
Lamewavve started right before I moved to New York City. I was feeling pretty depressed. I was stuck in a rut with a lot of different things. I was feeling lame, I didn't care. It was an excuse for feeling lame. In New York I teamed up with Lamewavve Dan. His name is Daniel and my name is Samuel. We were Lamewavve Iel and Uel. It was a pseudo artist collective with a manifesto about shamelessly and annoyingly self-promoting. That was the whole point, to be really annoying. It's critiquing celebrity and self-promotion.
What was your favorite Bozeman Lamewavve show?
I liked the Large Art Show because I brought a kayak in and nobody knew what to do with it.I like the idea of the Large Art show being very literal. My whole aesthetic is very by the seat of my pants. Aborted art was a big part of Lamewavve in New York. We had a lot of stuff that we started and then we would just say, "Fuck it, that's it." I like to use a lot of word play. We had a lot of pieces that came in for that show, and some good music. Another good one was the Bring Your Own Photo Show. We had golden cameras, and we had F11 involved for prizes. It was a fun night. The Doldrums played that night and I really like them.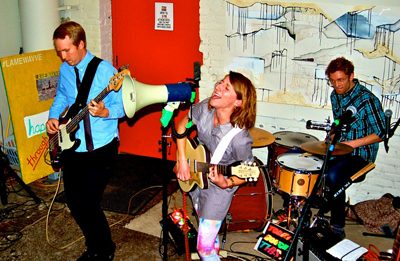 The Doldrums play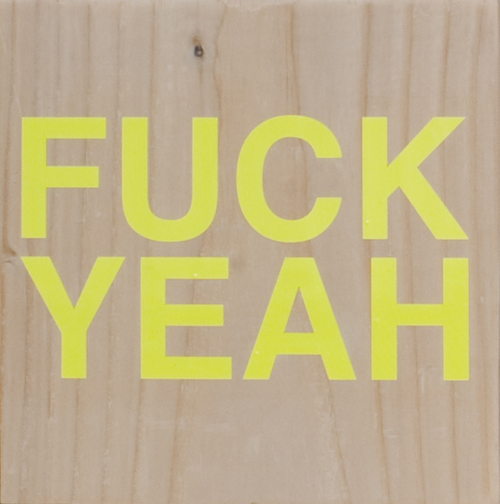 FUCK YEAH
How did the scene in Bozeman affect your visual art?
I started painting in Bozeman, seriously at least. The abstracts were the first ones that I did. They are a reaction to traditional Montana landscape art. No, I'm not going to paint a landscape and try to sell it. But also, my brother is very busy and always doing stuff, and the paintings are mostly about doing for doing's sake. I don't know what I'm doing, but look, I'm doing something! No, I don't know how to paint, but I am painting. It's just fun to mess around and get wild. It's fun to just spend an hour and try all kinds of different tools, try closing my eyes or like splattering more paint on. All my pieces always start by me dragging a ski across them.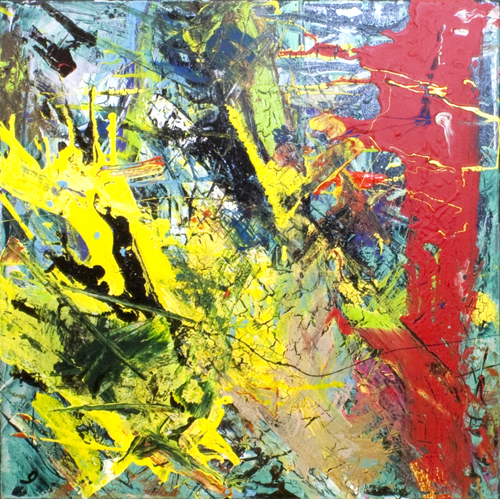 Abstraktes Bild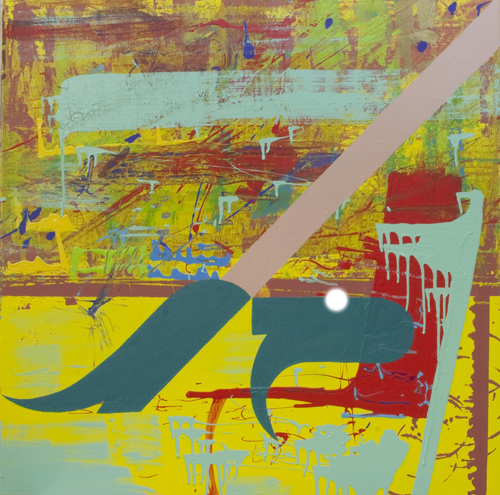 Cowboy Boot Abstract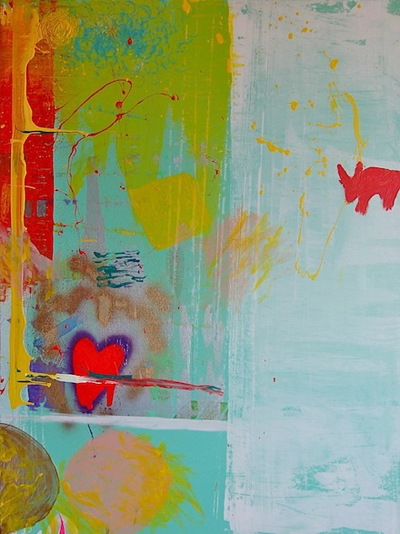 Manhattan Love Nest, Window View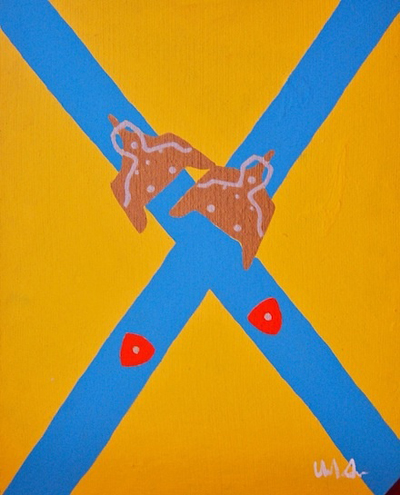 Skis for When You Want Skis on the Wall but Don't Have Skis
What can you tell me about your decontextualized art pieces?
These are to remove the context of other people's work and point to the things that seem absurd and weird that would seem normal. Most of them I get paintings at thrift stores then paint out the backgrounds. The main idea behind it is that I'm not that great of a painter, and why would any painter in the first place want to paint something super realistic when you have photography. Photography is arguably the truest form of representation, you can't paint anything that is more true to life than a photograph, so why even bother. I'm just going highlight that, It's like, I could never paint a wolf that good, so why bother, I'm just going to paint everything else around it.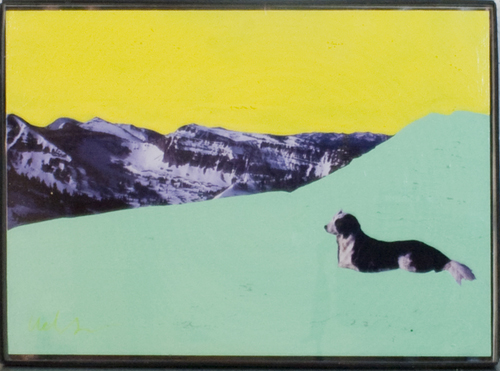 Dog Mountain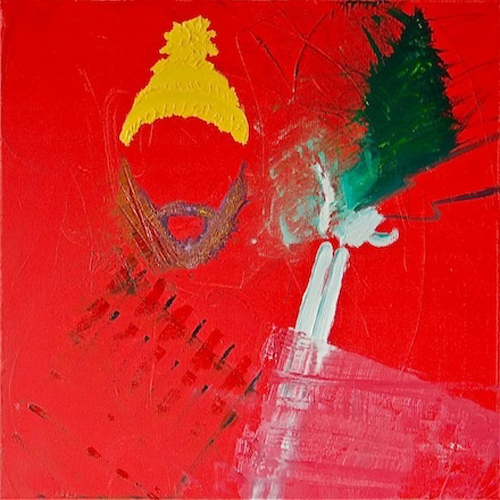 Self Portrait: An Affirmation that the Artist Has No Idea What He's Doing
What is the story behind the Michael's Mother's Lips piece?
In my little shitty loft in Brooklyn I lived with four other roommates. They all just smoked and did drugs all the time. It was kind of a disgusting place. Separated by a piece of plywood below me was Michael, it turned out that he was a heroin addict, which I didn't really realize for a while He was a nice guy and I was good friends with him. He ran out of money and had to move, but when he left he said, "Sam I have this painting." He had painted it and it was of his mother who had recently died. He didn't want to throw it away, but he also didn't have room for it, so he asked me to take it and do something with it. I sat on it a while then decided to just paint over everything except for the lips. The lips are the sexiest part of the painting, so decontextualizing them was kind of strange, just to see them there with nothing else. It was an uncomfortable flip, but I did it. I ran out of paint, so you can still just vaguely see the chin and the rest of her face.

Michael's Mother's Lips
What is your obsession with the color yellow?
It all started with my love of hummingbird, or seafoam green. In Ithica, I made a keytar out of an old keyboard and a piece of plywood. I painted it seafoam green, then I realized it was my favorite color. I painted my whole bedroom floor to ceiling. My desk, my shelves, my dresser, everything was seafoam green. I also painted
my bass guitar the same color. I fell in love with seafoam genuinely. There is a painter Eve Kline, he was a conceptual artist in the 60s and he actually patented his own color, Eve Kline Blue. He had an art show where he painted all sizes of different canvases the same patented Eve Kline blue color, but they were all radically different prices. from one dollar to one million dollars. He had his favorite color and he had patented it. My favorite color, seafoam green or as it is specifically known, "hummingbird" was already patented by Martha Stewart. It's Martha Stewart's Hummingbird. That was funny to me, my favorite color was already owned by corporate America. Damn. I'm still going to keep painting, but corporate America already owns my favorite color. Then I just had a change, from a very specific color, I decided that I liked Yellow. I didn't want to be specific. I wanted to keep it broad. Yellow is very bright, fun and energetic. It was a reaction to Martha Stewart.I don't know what I'm doing, but look, I'm doing something!I try to paint things that cannot be photographed, odd juxtapositions, odd colors, things that may not even be real.
Uel Sveen has since moved away from Bozeman to Bloomington Indiana where he is the proprietor of his own coffee cart company called Uel Zing.
Comments
comments