"Whether you are doing it for yourself or making a career out of it, keep working."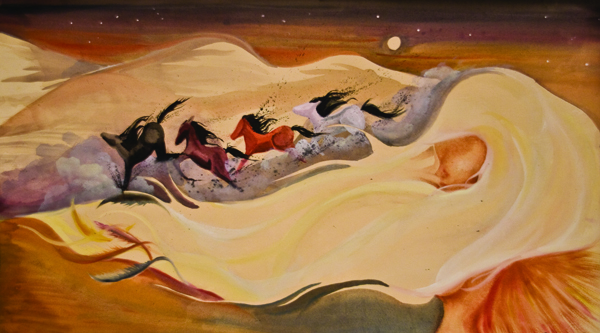 Badlands
What's your artistic background?
I grew up in South Dakota and did quite a bit of artwork growing up. I had a pretty creative childhood. My mom was always doing arts and crafts with us. It wasn't until later on that I discovered that not every household has an arts and crafts room. In my sophomore year of high school, I knew I wanted to go into graphic design because I liked computer work. I always enjoyed painting and homemade cards and things like that. I went to MSU and studied in the graphic design program. My thesis project was a graphic novel, so I was trying to push in that direction. After school, I freelanced for about a year. Eventually, I ended up back in Big Sky working for Outlaw Partners. Ever since, I've been trying to keep up my own artwork on the side. Nights and weekends, I paint as much as I can.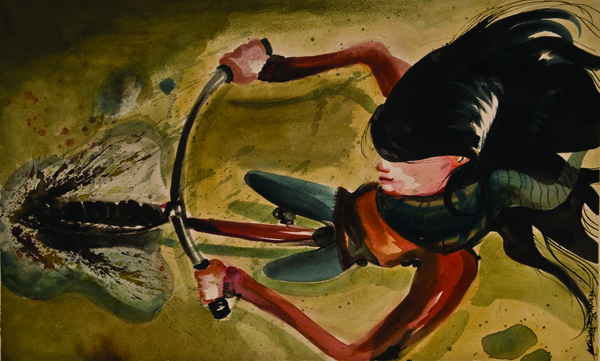 Free Rain
How do you balance your interest in graphic design and fine art?
I think they complement each other. Working with a client, you have boundaries to work inside. It's nice to get away from that and have no restraints. As a designer, it's important to draw and keep the creativity flowing. Thinking outside the box and bringing it back in. It's a nice balance. My main passion is my fine art side but I kinda like the balance of having a place to go to work and given problems to solve with more structure to it.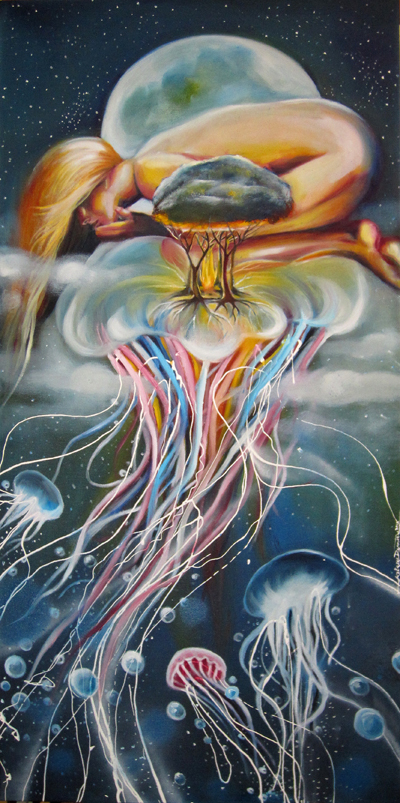 Jellyfish Island
Where do you draw inspiration with your fine art?
It's a lot from my own experiences as well as fantasy. Experiencing nature like all forms, I think that keeps the art true to myself. It keeps it personal in that sense. When I was in high school and developing my ideas, I was interested in the big city. I had a lot of imagery that was very urban and it wasn't anything close to home. So now, I'm bringing it back in.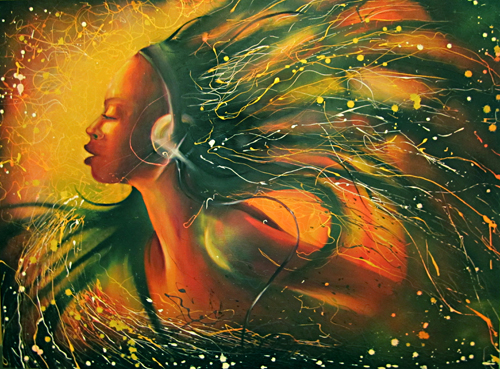 Synesthesia
Do you work on any work for commission?
I've done a few things. I like to be given subjects to work on and put my own flair into it.
What other hobbies and passions do you have?
I enjoy doing outdoor stuff, I snowboard and ski. I do a little bit of music, play guitar and piano a bit. I also play roller derby. I started playing with The Gallatin Roller Girls a little over a year ago and since I joined, it's grown immensely. I always played sports growing up, so now it's my outlet. It is something rare to be an adult and be on a team. I think its just really empowering that our ages range from 18 to 45. We are from all walks of life. It's a cool community, a lot of fun.

Foxy Mountain Snake Buzz
What advice do you have for people breaking into the world of creative work?
The biggest thing is to keep working. There was a time when the creative flow was fluid and I had no problem going from one painting to the next, cranking stuff out. Then I would hit a roadblock and not paint for months. So it's really hard to get that momentum going again. I went to school with a lot of kids; once we were out of school there wasn't that structure of assignments and they didn't do anything with it. It's sad because there was a lot of great talent. Whether you are doing it for yourself or making a career out of it, keep working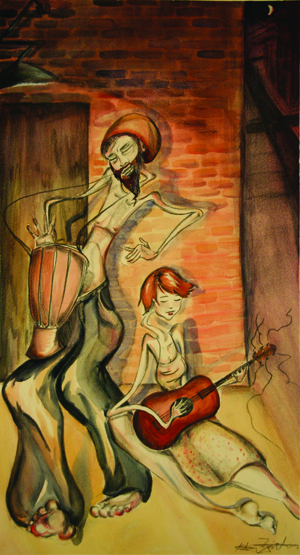 Street Musicians
Comments
comments