Interview with painter Hattie Bowen from Theory Magazine Issue Three.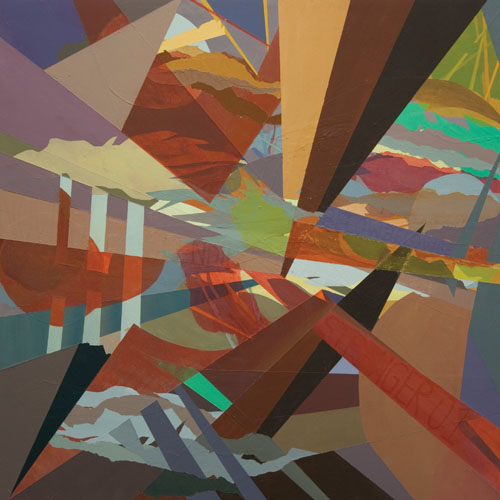 "Stranger 01 Descends," acrylic and oil on wood panel 30"x30"x2", 2012
---
Who is Hattie Bowen?
That is a deep question.
The perfect question right after you graduate college.
I know, right? It's like who am I? What am I doing? I'm a Montanan, through and through, but I'm also not a Montanan at the same time. I've lived here my entire life, and I've always felt like I don't belong here at all. It sounds horrible, because there's a lot of really awesome things about Montana that I really like, but living here is my enemy. I don't want to sound cynical, but there is just such a lack of diversity here. I need to get out of this little fishbowl that is Montana.
So you're a Montanan, but not a Montanan?
I've always felt like a weirdo. I've always felt different than everybody else. It is probably really cliche to say, because everyone feels like that, but being a queer artist in Montana is so weird. Just because people don't know how to react to you. They aren't exposed to people like that, so they don't know how to react to you. It makes things a lot harder.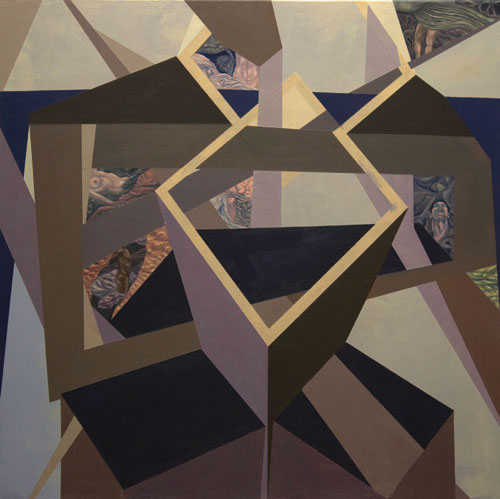 "The Functioner," acrylic and oil on wood panel, 42"x42"x2", 2011
What's the most extreme viewer reaction to your work that you've ever experienced?
Let's see, Somebody wrote a little comment at my Exit Gallery show and said they thought my work was "obscene," but I never knew who that was, or how they actually reacted to my work.
Would you consider "obscene" a negative comment?
Well, they said something positive, but then wrote that they thought it was obscene, so it was kind of weird. I haven't seen many negative reactions.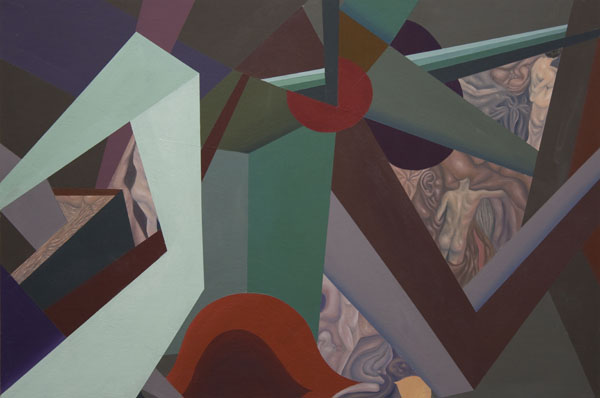 "Growing strong/growing strange," acrylic and oil on wood panel , 36"x24"x2", 2011
When did you first know art was something you wanted to pursue full-time?
The first two years of college, I went to Montana Western-Dillon. The only reason I went there was to play basketball, which was my main focus for a long time. I got there and realized that it was the worst place I could have gone for coming to terms with myself, and developing as an individual. It was the worst place I've ever been. I just went there to be fair, and everyone was asking me, "What do I really want to do?" I really wanted to play basketball, but I didn't want to be there anymore. Art was always something I was passionate about, so I decided to pursue it and get the fuck out of there.
Do you practice other forms of art besides painting?
I like to write. A lot of my work has text, or is text-influenced. I don't know if I'd call it poetry, but I do like to write. That is something that has come pretty naturally for me. It's another creative outlet that I have. I am working on developing it more. I think now that I'm out of school, I'll have more time to write. That will be good.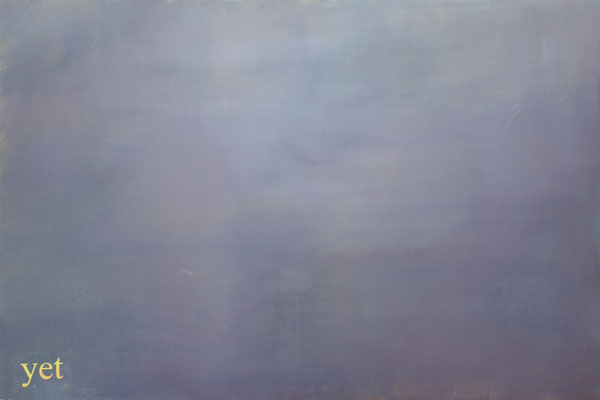 "Yet," acrylic and oil on wood panel, 36"x24"x2", 2012
How do you come up with your words that you use in your work? Is there a process behind it or a message you are trying to convey?
At some points in my previous work, I would sit down and write out a big long page of text. I would then do a ridiculous amount of editing and cut it down until I found the one sentence that described exactly what I was trying to say. Now I'm working on a full narrative that I'm going to illustrate through my paintings. Its not very far developed yet, but I'm working on it. For my next show, I'm considering having the whole narrative there, so people can read it. Parts of the text will also be fragmented throughout the paintings. You don't get the same, full experience if you are painting all the words. The narrative is going to be a social commentary, a cultural criticism about the societal "other." It's really easy for people to conform to society and for everyone to feel apathetic about making change. The story is about this group of people who rise up against that.
What type of reaction do you hope to achieve when you are making art?
I hope they can relate to it in such a way that they can see where they fit in – and be critical of it – instead of just accepting it for what it is, like a lot of people do by not thinking about it.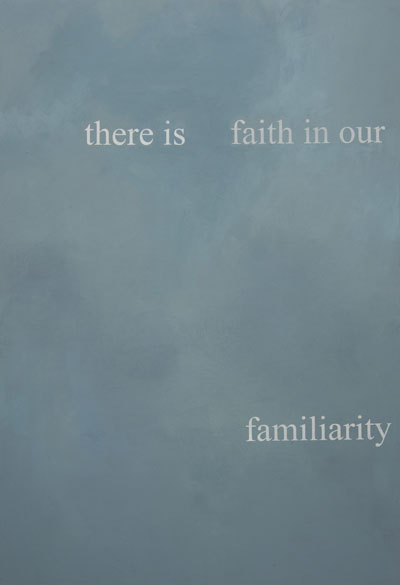 "There is faith in our familiarity," acrylic on wood panel, 24"x36"x2", 2011
Can you talk about the meaning behind your "tolerance" piece?
People use that word in such a positive way. In my opinion, it is not such a positive word. Tolerating something implies that whatever it is that you're tolerating is intrinsically bad. The word tolerance seems like a bad word to me. I don't think anyone wants to be "tolerated." If acceptance is too cheesy of a word, there's got to be a better word we can use to describe how different people can interact. There has got to be a different way.
How does the emerging future of technology and social media – this instantaneous form of sharing – affect you as an artist?
I think it makes it harder, honestly. At least for people who are traditionally based, in how they make their work. That is how I am now. The internet makes it harder for people to pay attention. There are so many other ways for people to access visual information quickly. It puts art in a new context. Younger people today are more used to viewing their iPad or a screen than an actual, physical piece of artwork that somebody made. I think it's going to be more difficult in the future to create fine art, but at the same time, technology provides the artist great opportunities. There are so many more things you can do, and so many more ways to combine media. There are a lot more possibilities, so it's complicated. The internet is a huge looming thing. It is overwhelming. The internet makes everyone feel important, but it also makes everyone really insignificant. It makes me feel lost in this endless web, literally and figuratively.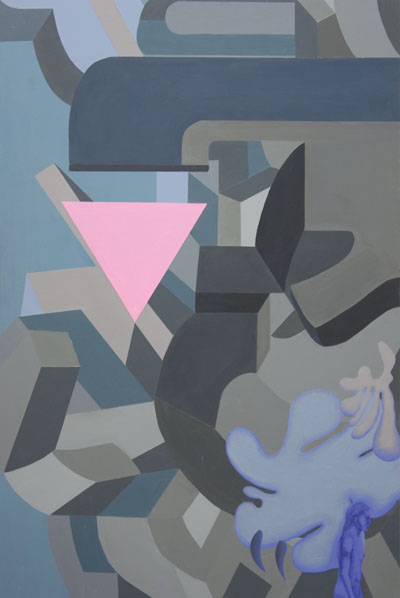 "Assimilation," acrylic on wood panel, 24"x36"x2", 2011
You are a member of "Others," what have the benefits of being involved with this group been?
So far it has been nice to have a group of peers outside of school that all trust each other and are familiar with your work. You can interact honestly with everyone's work. After being done with school, it's hard to get a sense of how to continue developing your work without some kind of interaction with other people. It's feedback and discussion that is really important.
What are your goals for this year after graduation?
I am applying to grad schools right now. If that doesn't work out, I'd like to apply to some residencies so that I can continue to develop my work at an even more significant rate.
Hattie is now living in Austin Texas. You can see more of her work on Facebook.
Comments
comments