Words by Michele Corriel
"We don't see things as they are, we see them as we are." -Anaïs Nin
Suspended in a transparent skin above the earth, we tilt over the Gallatin River, the sway and roll of the land beneath us. At 700 feet, on par with eagles and hawks, aerial photographer and pilot Chris Boyer, lifts the nose of the small plane. Directly beneath us, our shadow undulates over hills and fields.
There are only two seats in the apple red Cessna 172. The landscape below us reveals itself in a way that is both familiar and brand new. I watch Boyer's avian nature take over, as he dips his wings, scouting for a good shot. Boyer uses his plane like some artists use a brush. Lightly sweeping through the air, his eye searching for color, line, composition and something else.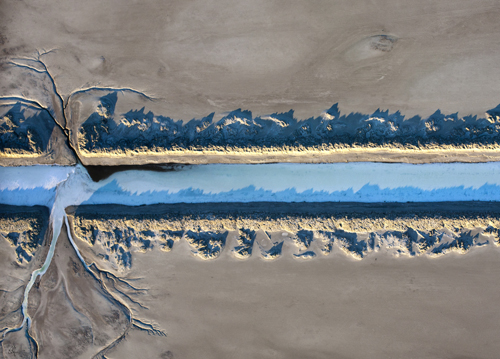 Drainage Canal, Bonneville Salt Flats, UT
"I look for the hard intersections between the natural landscape and man-made objects," he says. "I photograph a lot of junkyards."
Veering toward the Madison River, the land – bare of trees in this part of the valley – looks like a cover of velvet. Close enough to see the smattering of movement from a tractor parting the soil and to catch the sun-dazzled water like scales on a fish, reflecting, moving downstream.
"There's a sense of things unfolding from up here," Boyer says, talking to me through the headset. "And the time scale feels more intimate."
Boyer thinks of himself as a geomorphologist with an airplane.
"I wanted my maps to be so detailed you see the movement," he says. "I didn't want to work from static maps. And I knew from flying what I could see up there. So I put together my need to fly and my need for good maps. The photography was something I was interested in and when I started my mapping project I began playing around with aerial photography."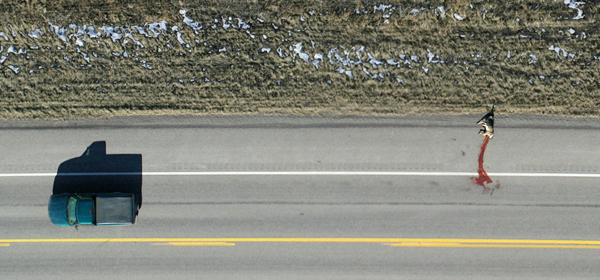 Roadkill, Gallatin County MT
Looking at the land from above helped him to understand the formations he was studying. It also helped him to get work.
"The aerial photos I took helped me to win clients and it's a valuable assessment tool. People love the view from above. It speaks to them on a deeper level than conventional photographs."
Centuries ago, when people first began map making, it was an art form, an exercise in the unimaginable made tangible. A stretching of what was known, touching the edges of the unknown. Boyer brings us back to maps as art. The images created by Boyer takes what is known and introduces us to it again, on a much more intimate level. We know these man-made highways of asphalt that line the land, marking it forever. But when we see the drag of blood from a just-killed deer it speaks to us of instinct and responsibility.
"My work requires participation from the viewer," he says. "I like to think of maps as static by nature. If you get a high enough resolution to see the ripples on the water, there's an element of time indicated in the photograph."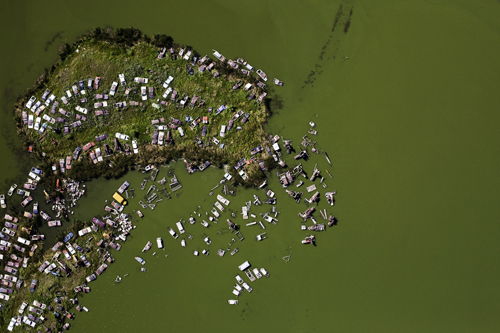 Junkyard, Prairie Potholes, SD
His hand is on the remote for his camera, a special set up to snap photographs while he's flying. He shoots with a pair of Canon 5d Mark 2s, 21 megapixel that is attached to the bottom of the plane. A vibration dampened vertical camera mount he set up by using a small inspection port already positioned in the belly of the plane.
Before using the vertical camera, Boyer would take off the door and shoot while flying. But once he figured out the logistics of the vertical camera and began taking test shots, those became some of his favorites.
In order to get those shots he needs to trust his intuition.
"I put the plane on course," he says. "I can't see what I'm photographing as the site dips under the nose. I time my angle; when I get over the area I want to shoot, I hit the remote. Every photograph is a gift."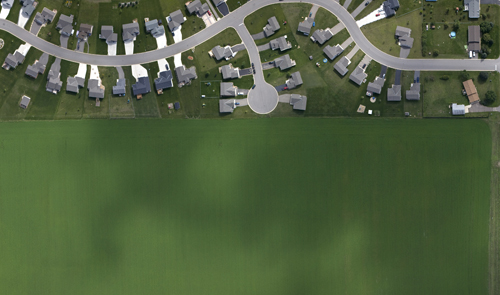 Edge of the Suburbs, MN
Boyer knows it's an honor earn his living in the sky, doing the thing he loves best, and so to give back he donates flights to LightHawk, whose mission is to champion environmental protection through the unique perspective of flight. LightHawk's goal is to mobilize enough volunteer pilots, aircraft and resources to help tip the balance toward sustainability for major environmental issues. Boyer flies volunteers, reporters, and environmental scientists out to sites.
"What a great way to use an airplane," Boyer says. "I remember when I first learned to fly in Oregon. I'd see the 'fool 'em strips' left by the lumber companies. They're a buffer between the road and thousands of acres of clear cut that could only be seen from above."
Last year he flew over all the coal mines south of Gillette, bringing in radio and video journalists to document the devastation.
"That's what's so great," he says, "with my need to be an airplane geek, I don't have be an activist. Through LightHawk I can fly activists, thereby doing something important with my plane."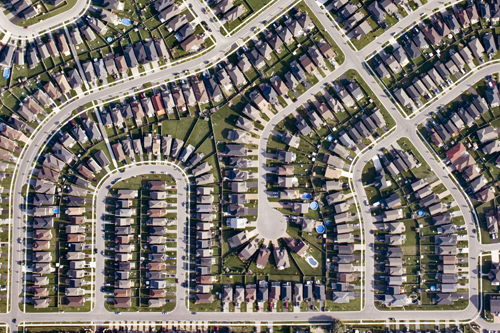 Middle of the Suburbs, NY
The Cessna shifts and bumps each time we hit a thermal or the wind blows. I realize, once again, we are a tiny thing in a vast sea of sky. Sharing the privilege of spectacular visuals, I can't stop thinking about how magnificent each contour, each bend of a stream, even the perfectly geometric fields appear.
Gliding over Lewis and Clark State Park, Boyer says, "It's a beautiful meander, chaotic but mathematically governed."
Not too far away, a dust devil spins, a brown funnel growing from the ground. A reminder that we are in the hands of nature, no matter the adeptness of the pilot and the steadiness of the plane.
"The wind is our constant nemesis," he says. And then he's silent for a while, taking it all in. "It's not just art but something … some responsibility goes along with this. I hope my photographs have some kind of impact."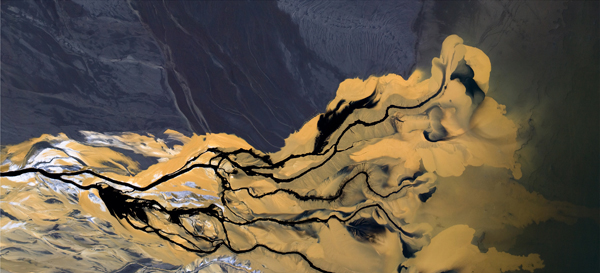 Cyanide Tailings, Whitehall, MT
You can see more of Chris Boyer's photos at kestrelaerial.com.
Comments
comments