Brother Ali, a hip-hop artist from Minneapolis MN, made a stop in Bozeman this week on his tour supporting his latest release "Mourning in America and Dreaming in Color." The album presents a scathing, yet honest, critique of America and its many flaws while simultaneously presenting a hopeful outlook of its possibilities. The production is spot on, courtesy of Jake One and the Rhymesayers crew, and as always, Brother Ali brings his seasoned
lyricism and signature voice.
The day with Brother Ali started with a free all-ages performance at Cactus Records. The show was intimate and powerful. The full house was captivated as Brother Ali played a few songs, spoke on the importance of humanist ideals and acceptance in hip-hop, as well as speaking about his actions (and arrest) working with Occupy Homes in Minneapolis. He closed out the performance with an accapella rendition of his song "Us," then stuck around for another hour to take photos and sign autographs for fans.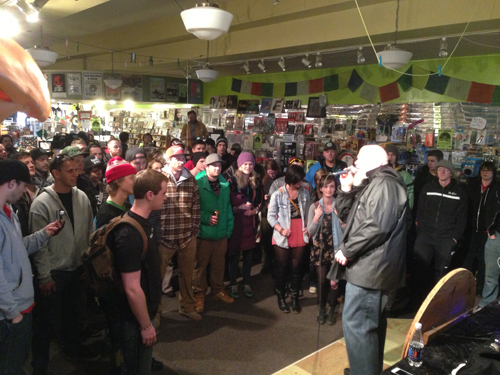 Later, he rocked the Zebra Cocktail lounge, supported by opening act David Dalla G, Bozeman's own up-and-coming hip-hop talent. The show was high energy, feeding of the support of the sold-out crowd. Attending a Brother Ali concert is a welcome reminder of what the workd of hip-hop should, and still can be, an arena for sharing ideas and powerful community connections.
Below is the official video for "Mourning in America."
Brother Ali – "Mourning In America" from Todd A on Vimeo.
Comments
comments